files/fotob/product-2416.png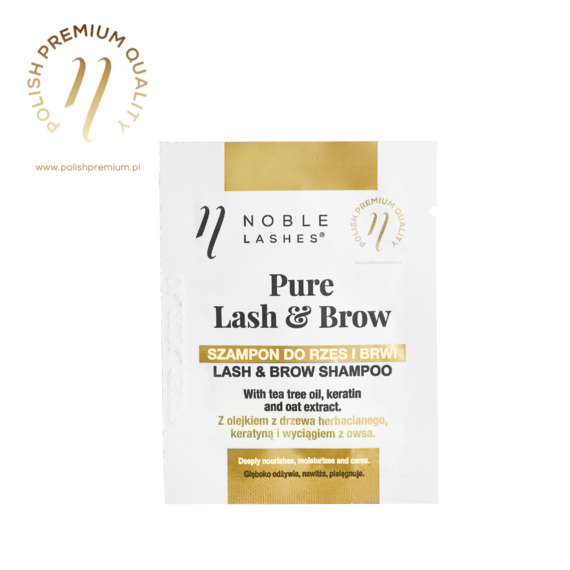 Express International delivery

Lash and brow shampoo Pure Lash & Brow by Noble Lashes
Product code:
SZAMPON_PURELASH
Professional eyelash shampoo  Pure Lash & Brow in a sachet. The gel eyelash shampoo has a delicate formula that perfectly nourishes eyelashes and stimulates their growth. 
Availability
:
High number
Recently bought&nbsp95 people


Express International delivery

Product description
Properly prepare for an eyelash extension treatment
Eyelash extensions allow clients to enjoy gorgeous looks without having to spend hours in front of a mirror applying makeup every day. Once done by a professional stylist, eyelash extensions can hold for up to 10 weeks. In order to ensure that client's lashes look as pretty as they can during that time, they require proper care, which usually includes using a cleaner and a primer before the treatment, as well as regular cleaning with a lash shampoo.
Pure Lash & Brow is a professional eyelash shampoo, manufactured to delicately clean lashes and the skin around them. It does not contain parabens and SLES, which makes it perfect for clients with sensitive eyes and skin. The shampoo acts as a gentle conditioner, protecting the natural eyelashes of your client from damage and giving them a healthy look. Use Pure Lash & Brow shampoo as part of the preparation for an eyelash extension treatment to ensure the best results. Use the Noble Lashes foam container to pour the contents of the sachet into and fill it with water.
Pure Lash & Brow by Noble Lashes as part of a daily routine
Not only can Pure Lash & Brow shampoo be used before an eyelash extension treatment to improve your results, but it can also be used by clients themselves at home as a part of the daily lash care routine. When used every day, Pure Lash & Brow regenerates and protects the natural eyelashes, deeply strengthening their roots and preventing them from falling off too easily. Pure Lash & Brow makes a perfect after-treatment gift to your clients, allowing them to care for their eyelashes at home.
Pure Lash & Brow shampoo contains tea tree oil, which has antibacterial, antiviral and antifungal properties. It also regulates the sebaceous glands and protects the hair root of the lashes. The oat straw extract gently reinvigorates and softens the skin, protecting it from irritations, and moisturizes the eyelashes. Keratin contained within Pure Lash & Brow shampoo further strengthens the hair structure of eyelashes, preventing them from breaking, and gives them a healthy shine.
Noble Lashes - professional eyelash salon supplies
Noble Lashes is a manufacturer and seller of premium cosmetic supplies, designed to be used by professional eyelash stylists. Our offer is a comprehensive collection of the most vital accessories and utensils for professional eyelash extension application. It includes a wide variety of eyelash extensions, ranging from simple 1:1 lashes to lashes designed for volume methods of application, from 2D to 5D. Tools and accessories, such as wands, tweezers, and applicators, can also be found in our store in a variety of shapes, sizes, and types, all at an affordable price.
In our offer, you will also find a range of cosmetics and care products to be used both before each treatment, as well as after. This includes cleaners, removers, and primers, as well as more universal makeup removers - all available in different varieties. We also feature a premium selection of eyelash adhesives, designed with efficiency and long-lasting effects in mind. If you are a beginner stylist, browse through our offer of starter kits, which include an assortment of eyelash supplies.
INCI: 
Aqua, Coco-Glucoside, Cocamidopropyl Betaine, Propylene Glycol, Sodium Chloride, Camellia 
Sinensis Leaf Extract, Avena Sativia Kernel Extract, Panthenol, Glycerin, Melaleuca Alternifolia Leaf 
Oil, Hydrolyzed Keratin, Allantoin, Acrylates/Beheneth-25 Methacrylate Copolymer, 
Methylpropanediol, Phenoxyethanol, Potassium Sorbate, Sodium Benzoate, Sodium Hydroxide, 
EDTA, Benzyl Alcohol.
 Noble Group Sp. z o. o.Nowowiejska 33, 32-300 Olkusztel +48 500 045 413
Details
| | |
| --- | --- |
| Packaging | Sachet |
| Capacity | 3ml |
Opinions
Have you tested our product?
Log in
and share an opinion
- we try to be best for you, and your opinion will help us a lot!