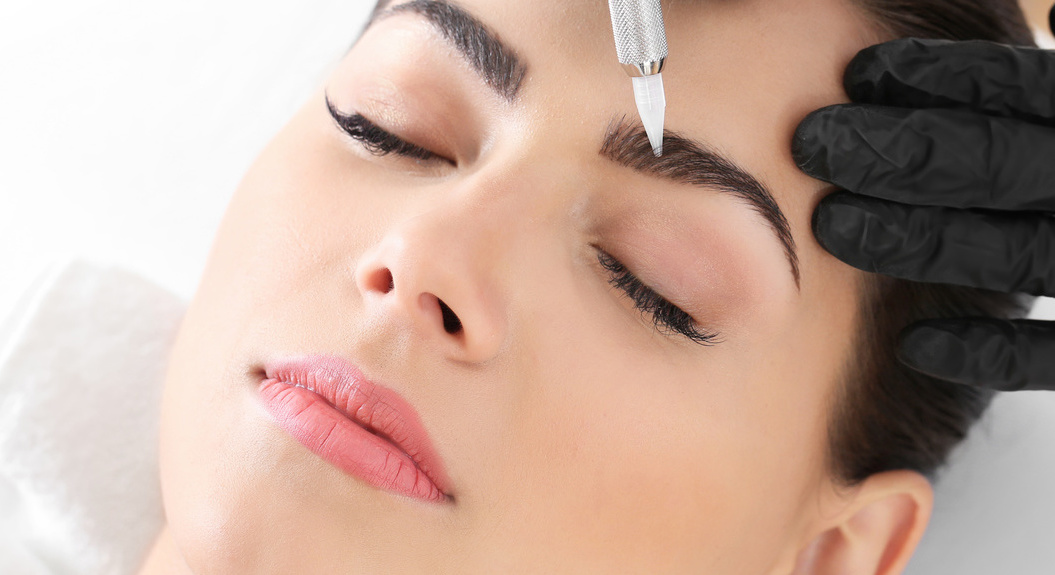 Pigments in eyebrow microblading
24 - 02 - 2022
When looking for something more permanent than makeup and regulating the eyebrows, many clients decide for permanent makeup. One of the most popular types of permanent makeup is microblading, which can give a woman an entirely new look with just a single treatment. The effects of microblading stay visible for up to eighteen months, averaging around a year's time. If you are a stylist looking to get into microblading, you will need a set of professional supplies to provide your clients with high-quality treatment. One of the most important supplies when it comes to microblading are microblading pigments, which dictate the colour of the results. In order to achieve the best results, always use the highest quality of pigments.
What is permanent makeup and microblading?
Microblading is one of the most popular methods of providing permanent makeup. Microblading is done using a simple-looking microblading pen, filled with blades and dipped in pigment. The pigment is selected in accordance with the client's individual complexion and natural hair colour in order to create the most favourable combination. During the treatment, the microblading pen creates small incisions in the skin in which a pigment is inserted. The method is similar to how tattoos are created, but is only semi-permanent as it dissipates in around a year's time.
Eyebrow microblading is a great solution for women who struggle with thin eyebrows that are hard to keep in check. Women with irregular eyebrows can also benefit from this treatment. The effects of microblading stay consistent over a long period of time, allowing women to forget about makeup and be the most glamorous version of themselves all the time. While henna is often considered as a good alternative to microblading, it's results are much shorter. With microblading, your client's won't have to return for a re-do every couple of weeks.
What do I need to perform microblading?
One of the most important tools you are going to need during an eyebrow microblading treatment are microblading pigments. At Noble Lashes, you will find a wide variety of micro-pigments used for microblading, available in a range of colours. With these pigments, you will be able to perfectly match the colour to the natural colour of your client's eyebrows. The colour of the pigment always needs to be considered in comparison to your client's complexion and natural hair to create a desirable combination of shades.
At Noble Lashes, we offer a selection of basic pigments that can be used separately or mixed together to create a greater variety of shades. All of the pigments feature creamy consistency that stays well on the eyebrows and does not droop down into the eye. The basic pigments are available in black, black-brown, dark brown, brown, light brown, dark ash brown, taupe, skin, and grey colours. We also offer high-quality Luanes micro-pigments available in a greater variety of colours such as red, peach, pink, espresso, beige, bubblegum, and more!
How to choose the right microblading pigments?
The choice of microblading pigments is a crucial part of the treatment. Your choice will heavily impact the effects of the treatment, depending on how well they blend in with your client's complexion and natural hair. Brown microblading pigment is one of the most universal choices that should fit with most clients, but you should always induce a thorough colour analysis with every client before starting the treatment. The brown pigment also works well when mixed with a bit of the grey one.
The pigments available at Noble Lashes can be used for permanent makeup of the lash line and lips, apart from just the eyebrows. The pigments can be mixed together to achieve unique and unusual combinations of colour that will fit more demanding clients. In our offer, you can find over thirty different shades of pigments that can all be combined together to create new colours. Some of our most popular shades are khaki brown, choco brown, magic brown, espresso, cappuccino, mocha, rose red, red wine, pink mauve, valentine kiss, orange, and white.
What other accessories do I need for microblading?
Apart from the microblading pen and microblading pigments, you will need a set of microblading needles to perform the treatment. The needles sold by Noble Lashes are ready to use straight out of the box, as they are all sterilized before packaging. The needles are available in a variety of types and the number of individual needles can be customized. We also offer a variety of microblading pens, some of which are double-sided, allowing you to quickly switch between different types of needles. One of the more useful accessories used in microblading is a pigment mixer. With a pigment mixer, you can quickly and effortlessly combine together two or more pigments to create a new shade. It is also recommended to use eyebrow brushes during the treatment to control the position of your client's eyebrows. To make the treatment comfortable and painless for your client, we recommend using a proper anaesthetic. At Noble Lashes, you will find anaesthetic in easy-to-use anaesthetic pads, as well as a cream anaesthetic.