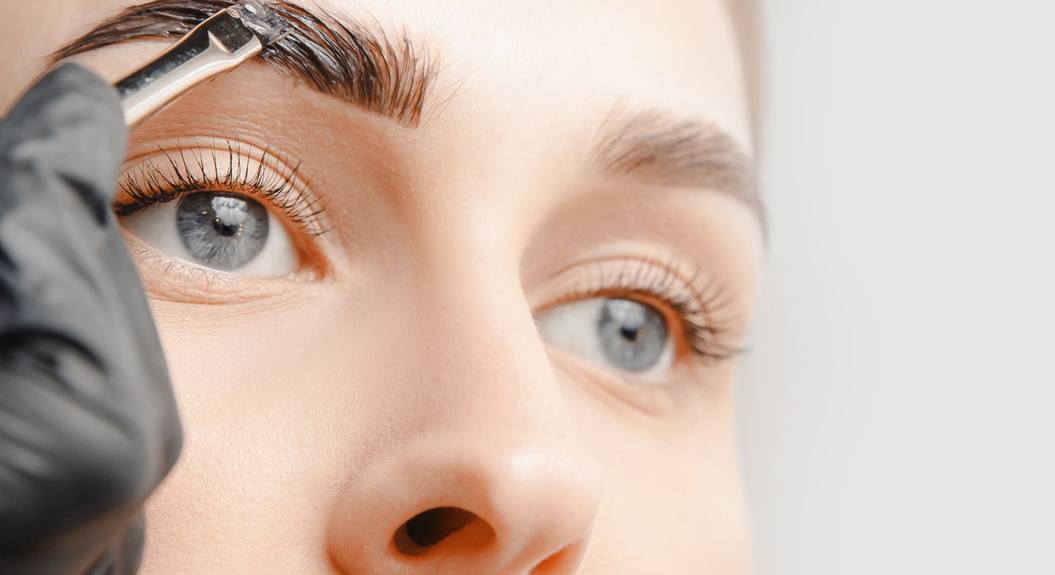 Process and care - eyebrow lamination treatment
24 - 02 - 2022
Brow lamination has been the most popular beauty treatment of the year! This "Less is More" trend was taken up by social media influencers and even celebrities in 2022. Now it's one of the tasks in a girl's to-do list to get brushed up, smooth, fuller, and natural-looking eyebrows.
What is Brow Lamination?
Brow lamination is a non-invasive procedure that involves straightening and lifting the natural eyebrow hair. It's a relatively new beauty procedure for creating shiny and smooth eyebrows. Brow lamination originated in Russia and made its way to the west. Now women from all over Europe want to recreate the trending looks of thick, fuller, and bushy brows.
This treatment is also called "eyebrow perm" because a chemical solution is used to make the hair more flexible and move them in the desired direction and shape. If you are experiencing thinning or unruly eyebrows due to gaps, overplucking, or any other reason, brow lamination is a wondrous solution and a great alternative to Microblading.
What does the Process of Brow Lamination involve?
Natural and well-defined eyebrows without using pencils and powders are all a woman needs. Most of the salons are offering brow lamination services along with microblading. NobleLashesEU provides you with the brow lamination kit that consists of professional brow treatment products and comes under the label Noble Brow.
The actual process of brow lamination needs chemical treatment to pull the hair straight upwards which gives off a fuller and well-defined look. The complete process requires 50 minutes to 1 hour and involves the following steps:
Step 1: Use a cleaning solution to make sure that your eyebrows are clean.
Step 2: Apply a perming solution gently using a Q-tip and wait for the given time. It will soften the keratin in the hair and allow us to reshape the brow.
Step 3: Place an osmotic foil on your brow. Leave it for 8-10 minutes and then remove it gently.
Step 4: Apply the fixing lotion on your brows with a Q-tip and brush them in your desired direction. Cover it with an osmotic foil and press down firmly to hold it in place. Leave it for 8-10 minutes and remove with a damp cotton pad or Q-tip.
Step 5: In this step, you can tint your brows to give them a fuller look. You can find the complete guide to tint your eyebrows here.
Step 6: Apply the nourishing oil for a beautiful finish.
Step 7: Always shape your eyebrows by plucking, threading, or waxing the extra hair, when the lamination process is completed to avoid irritation.
How Do You Care for Your Brows after a Brow LaminationTreatment?
After a brow lamination treatment, the first 24 - 48 hours are very crucial so you will have to avoid the following to ensure the longevity of the treatment.

1. Rubbing and wetting your eyebrows
2. Applying any makeup or lotion near eyebrows
3. Taking steam or saunas
4. Any activity that can cause sweating
5. Avoid direct contact with sun and sunbeds


After 24 - 48 hours, you can resume your normal routine but your brows would require regular care to keep the shine and freshness. We advise you to brush your brows with a mascara wand and use a nourishing oil, every morning and night to keep your hair smooth and healthy.
How Long Does Brow Lamination last?
If you follow the proper aftercare, the brow lamination treatment can last for up to 6 weeks. Although you will need to follow a brow care regime to keep your brows fresh.
Is Brow Lamination Safe?
Yes, this process is perfectly safe. NobleLashesEU's brow kit, Noble Brow, is designed to be suitable for all types of skin. It comes along with nourishing oil and aftercare to keep your eyebrows healthy and glossy.
Benefits of Brow Lamination
This process can be a life-changing option for people seeking a solution for a better outlook. There are the following benefits for which people are attracted towards brow lamination:


It can solve the problems regarding thinning of eyebrows, gaps formed due to age or overplucking, unruly hair, and lack of proper shape
It helps you to achieve fuller and healthy-looking yet natural eyebrows in the first sitting
It allows you to get your favourite trendy look with a little investment. Since celebrities have been very experimental nowadays, with their looks regarding eyebrows lamination and lift which inspires their fan following to achieve a similar look.
This process is non-invasive and can last up to 6 - 8 weeks
Potential Risks and Side Effects of Brow Lamination
There are some downsides of brow lamination if you have sensitive skin, eczema, or a history of contact dermatitis. The chemicals used in the process may cause redness, irritation, peeling, or bumps around the eyebrows. Frequent procedures before six weeks could be damaging for your eyebrows. A proper consultation before the treatment and regular aftercare can help save you from the risks.
Is Brow Lamination better than Microblading?
Many people mistook brow lamination for microblading because the results of brow lamination are splendid. Microblading, also known as micro feathering, is a process that involves tattooing the hair-like strokes to fill in the eyebrows in the desired shape using microneedles. Whereas, brow lamination as you know earlier, allows your natural hair to sit in your desired direction to make it look fluffy and thick without using any needle. The results are very natural.

Microblading lasts up to 1 - 2 years which means you will have to stick to the same style for a longer period. Eyebrow lamination is a temporary option to style your brows. It allows you to change your brow style (after 6-8 weeks) and to keep up with the trends.

Microblading procedure requires an aesthetician and is an expensive eyebrow treatment while brow lamination is an affordable alternative that must be available at your nearest salon.

If you want to level up your eyebrow game, Brow Lamination must be your go-to choice. For being a non-invasive, affordable, and semi-permanent procedure with impressive results, it has taken women by storm. They believe in treating their customers with the best of products; hence, Noble Brow is a set of professional treatment products that are vegan and cruelty-free.