files/fotob/product-2945.jpg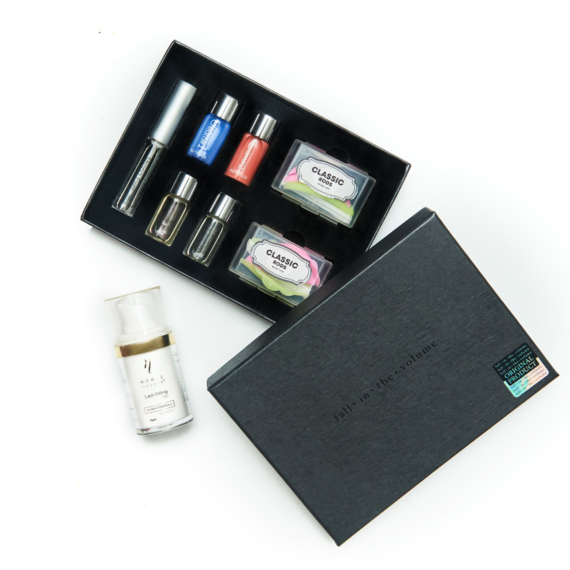 Express International delivery

Fall Into The Volume Eyelash Perm Kit with Lash Filling
Product code:
ZESTAW_FALLFILL
Perming your lashes frames the eyes, giving the appearance of bigger youthful looking eyes with longer, thicker lashes.
Recently bought&nbsp5 people


Express International delivery

Product description
Attention! The new version of the Fall in the Volume kit contains Strong Fixer glue with an improved formula and Cream # 1 I Cream # 2 preparations with an accelerated action time - before performing the procedure, please read the instructions carefully. Black Coating has been removed from the kit.
Fall In The Volume Eyelash Perm Kit
One of the most popular eyelash treatments is eyelash lifting, often called eyelash perm because of its similarity to the classing hairstyle. Eyelash lifting is great for women who find eyelash extensions too uncomfortable, or whose eyelashes simply don't match well with eyelash extensions. Eyelash lifting is a safe and simple procedure that every woman can benefit from, giving the eyelashes a noticeable curve and improving their condition.
During eyelash lifting, the eyelashes are covered in a special substance that keeps the eyelashes in the desired position. The method of application is fully non-invasive and done using a simple wand and silicone pads. The silicone pads are placed on the client's eyelids, and, using one of the substances, the stylist places the eyelashes on the silicone pad one by one. Women of all eyelash types can benefit from an eyelash lifting treatment, but the effects are the most visible on women with straight eyelashes, who usually apply mascara to curl them.
Eyelash lifting made easy with Fall In The Volume Eyelash Perm Kit
Produced by Noble Lashes, Fall In The Volume Eyelash Perm Kit is a professional solution for stylists and beauticians who are looking to get into eyelash lifting. The kit contains all of the necessary supplies required to provide eyelash lifting to clients. Using the Fall In The Volume set, you will be able to provide your clients with gorgeous makeovers, easily framing their eyes and making their eyes pop out with long eyelashes full of volume. Eyelash lifting makes for a great replacement for traditional eyelash extensions when applied by a professional stylist.
The Fall In The Volume Eyelash Perm Kit by Noble Lashes contains two different types of cream, Strong Fixer, and a Pure Essence substance. In addition to these supplies, the kit contains another special coating and a keratin conditioner that laminates the eyelashes after the initial treatment, preserving the effects of eyelash lifting and gently nourishing the eyelashes. In addition to gorgeous results, eyelash lifting can improve the structure of the eyelashes, making them more durable and giving them a healthy look.
FOR PROFESSIONAL USE ONLY
Premium eyelash lifting supplies and more by Noble Lashes
At Noble Lashes, you will find a wide variety of tools, accessories, and supplies designed and manufactured with professional stylists and beauticians in mind. We offer a large variety of supplies used during eyelash lifting treatments, including different types of kits. On our website, you will also find a choice of premium eyelash extensions, eyelash care cosmetics, and various tools such as tweezers.
Opinions
Have you tested our product?
Log in
and share an opinion
- we try to be best for you, and your opinion will help us a lot!