files/fotob/product-3756.png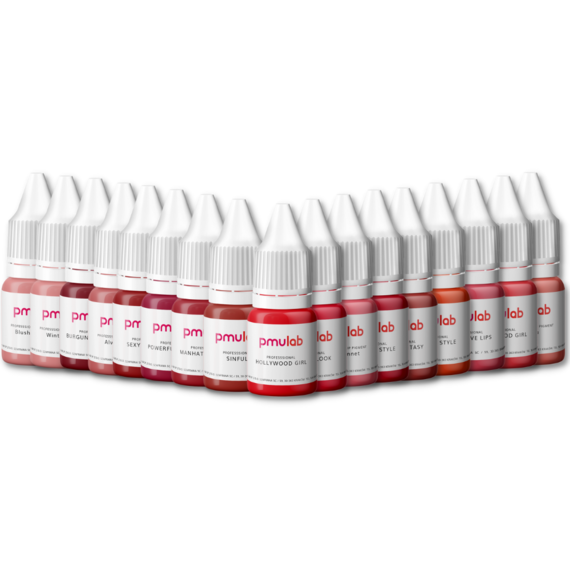 Express International delivery

Pigments for permanent makeup of lips 10ml PMU LAB
Product code:
PIGMENT_DO_UST_PMULAB


Express International delivery

Product description
PMU LAB pigments for permanent lip makeup compliant with REACH - durable and safe pigments produced in the European Union. Tested in Polish laboratories.

They were created by specialists. The pigmentation is permanent and the color is intense. The skin heals quickly after the treatment and the effects are amazing. The appropriate composition of ingredients allows you to achieve an intense, but natural effect in line with the expectations of the linergist and the client.

Capacity: 10ml

The offer includes as many as 17 shades, thanks to which you can match the color perfectly to your client:
MANHATTAN CHIC - Be like the Manhattan girl.
Confident, unique and resolute, she walks with her head held high through the crowded streets. Feel like the main character in the movie with our intense smoky red pigment. Manhattan Chic was created for those who like to stand out. Thanks to its natural tones, the lips are perfectly emphasized and the effect is extremely natural. The intense shade of smoky red allows for an intense but natural effect. Created for people who care about strong color on the lips.

SINFUL - intense brick red for self-confident.
The effect of full, expressive and eye-catching lips? Feel confident with our Sinful color. It is a natural color intended for owners of various complexions, which will be perfect for everyone. Thanks to the smoky effect, the lips will be expressive and will take on a unique character. Sinful is a pigment created for self-confident women, fans of red in a modern variety.
PARISIAN STYLE - Choose elegance and classics.
Elegant red with a slightly smoky effect. Intended for fans of classics and timeless elegance.Perfect for people expecting an expressive effect on the lips. Give yourself confidence and attract attention. Parisian Style is a pigment with natural tones, thanks to which it will be perfect for people with various types of complexion.
SEDUCTIVE LIPS - Seductive and eye-catching.
Underlined lips are a key element of everyday makeup for many of us. They attract the eye and emphasize the smile. Dirty pink lips are the perfect solution for those who want to use the original but used color on their lips. The obtained effect is extremely natural and suits all types of complexions.
FRENCH LOOK - The classic always wins.
Who among us did not want to be under the Eiffel Tower in the evening with a red lipstick on his lips attracting everyone's eyes? Red wine lips are a never-ending trend! Give yourself confidence with our pigment. French Look was created for people who expect an expressive pigmentation effect and a product that is safe to use. Elegant, intense, cool red. It was created for all fans of classic colors on the lips. Perfect for people who want a visible effect and emphasize red.
SEXY MAMMY - Don't let it pass you by indifferently.
A color created for strong, sexy and self-confident women. Sexy mammy is a pigment in a burgundy shade. Perfectly emphasizes and fills the lips. Thanks to its cool tones, it will be perfect for owners of dark shades of hair. Sexy mammy is a color that cannot be ignored. Extremely sexy and alluring, it attracts attention and makes the lips perfectly emphasized.
POWERFUL WOMAN - Conquer the world!
Brave, firm and walking through life with her head held high. It is a pigment for women who want to conquer the world. Intense, with cool shades, it will perfectly complement and emphasize the lips. Created for the cool type of beauty. Powerful Woman is a pigment for women expecting an expressive and eye-catching effect.
BURGUNDY FLOWER - For firm and self-confident.
A color for self-confident women? Burgundy flower is a cool shade in color dark wine that will allow you to achieve the effect of expressive and full lips. Created for women who like to stand out. Perfect for people with a cool type of beauty with black or dark brown hair. Burgundy flower is a color created for the brave and determined, who want a strong and unusual color on the lips.
BOLLYWOOD GIRL - Colorful outfits, rich ornaments ... Be like a Bollywood girl!
Ubiquitous colors, the sound of bracelets and joy are associations with Bollywood. Our color was created for those who like to enjoy life. The warm shade of pink will perfectly match the tastes of your clients. Perfect for people with lighter shades of hair. Bollywood Girl perfectly revives the lips and gives them a beautiful, natural color.
HOLLYWOOD GIRL - Shine like a star!
Who didn't want to feel like the stars we see on the big screen at least once? With our lip pigment you will make your clients feel like the main characters. An intense shade of pink created especially for owners of a warm type of beauty. Hollywood Girl is a pigment that will provide an intense effect. Its intriguing and extremely original color will make even the most demanding clients leave satisfied.
SUMMER STYLE - Mouth touched by the sun.
The sound of water, the touch of green grass and the sun high in the sky. Who among us doesn't love summer? Let a part of it always be with you thanks to our pigment. A warm, orange shade is a choice for the brave and those who like strong colors on the lips. Summer Style is a joyful and decisive color, just like summer fashion! Orange-colored lips are a never-ending hit and look great on people with a warm complexion.
YOUR FANTASY - Don't be limited, let your fantasy carry you!
Dirty red is the perfect shade for everyday use. It will emphasize the natural color and emphasize the beautiful shape of the lips. Its warm tones make it perfect for spring and fall women. Your Fantasy is the color for those who are not afraid to dream. An intense, eye-catching and unusual shade of red is an excellent choice for those who expect a strong effect on the lips.
BLUSHING ROSE -highlight your natural beauty.
Blushing Rose is a natural, pastel pink-beige pigment. Perfect for clients with both dark and light hair color. It is a must-have in the palette of every linergist. Pastel, delicate shade allows you to achieve a natural effect on the lips. Blushing Rose is a pigment created for women who expect a natural, durable and beautiful color on the lips with a delicate nuance.
ROSE SONET - for lovers of classics in a modern edition.
Rose Sonet is a brown pigment in warm tones. Perfect for clients who expect a distinctive shade on the lips and a visible effect. Rose Sonet is a shade from the nude palette in a more expressive edition. A modern take on a classic that everyone loves - nude lips. Rose Sonet is an excellent choice for owners of a warm type of beauty. Permanent and natural makeup can enhance the beauty of lips and give them a unique character, and give a woman self-confidence!
WINTER ROSE - shine like a flower wrapped in a coat of snow.
Winter Rose is a delicate pastel pink in cool tones. It is perfect for lip pigmentation for owners of delicate, cool complexion. In addition, it will also be a good choice for mature clients who have bright red lips. It is a pigment created for women who expect a natural and delicate effect of underlined lips. Winter Rose is the perfect nude pigment with a cool nuance.
DALHIA - bloom like a beautiful flower and delight with charm.
Dahlia is a pastel peach pigment in a natural tone. This is the right color for blondes. It is also perfect for mature skin. Dahlia is the perfect color for pigmentation of bright and cool lip red, which we want to warm up. It is an extremely flattering color that can be mixed with other pigments. Dahlia pigment is perfect for 3D and Aquarelle techniques.
ALWAYS PINK - subtle, feminine and eye-catching. Pink is always a good choice!
Always Pink is a distinctive and intense pink in a natural tone. Ideal for professional pigmentation of lip red to obtain a pink shade. This color is suitable for people who want to revive their lips and give them a fresh and defined look. Perfect for different types of beauty. Always Pink is a pigment that is perfect for Ombre, 3D and Aquarelle techniques.
Permanent makeup mixtures in accordance with the latest regulation of the Council of the European Union 2020/2081 and (EC) 1907/2006, (EC) 1272/2008, (EC) 1223/2009, (EU) 528/2012
Opinions
Have you tested our product?
Log in
and share an opinion
- we try to be best for you, and your opinion will help us a lot!