files/fotob/product-2477.png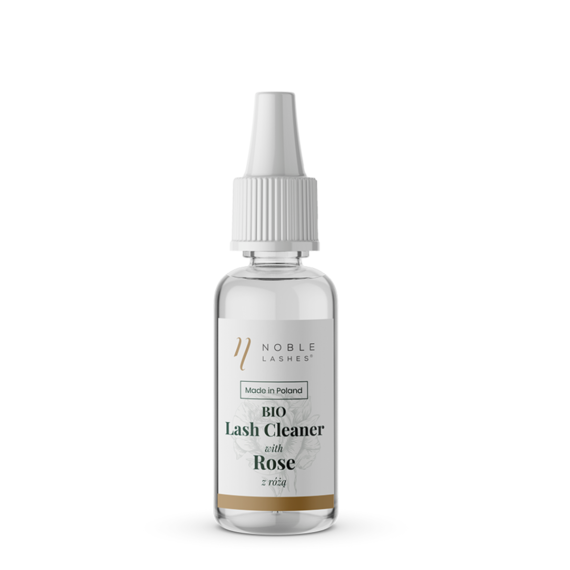 Express International delivery

BIO Lash Cleanser With Rose
Product code:
BIOLASHCLEANER_ROZA
Professional BIO cleaner cleanses and degreases eyelashes preparing them for extension. Has nutritional properties of rose extract. 
Lowest price 30 days before the discount: 10,69 €
Availability
:
High number
Recently bought&nbsp72 people


Express International delivery

Product description
Lash BIO Cleaner with rose
Another product from our bio-friendly, vegan line of cosmetics that will help you prepare your eyelashes for the extension treatment, no matter the type of extensions you decide on. The key in that procedure, besides finding a competent beautician, is getting your lashes ready for the whole process. To accomplish full readiness you'll need to take care of your natural lashes first.
They need to be clean and free of any grease - only that way the extension treatment will be fully effective and your extended and thickened eyelashes will stay attached for an extended period of time. Our BIO Cleaners are produced 99% from natural resources and are certainly applicable to be used by vegans.
Delicate formula enriched with an admixture of rose is safe and very efficient. It will not cause any irritations of an eye or skin, and will most definitely help your natural eyelashes reach the state where they will be stronger and healthier. Lash BIO Cleaner with rose from Noble Lashes moisturizes lashes, soothes skin irritations, and has a toning and antibacterial effect.
Healthier eyelashes with BIO Cleaner with rose
Thanks to the addition of rose, the product now has flavonoids and vitamin C. Our cleaner also protects you from the harming effects of UV radiation. The formula is supposed to be applied to the eyelashes after they have been cleaned. Lash BIO Cleaner itself will help you get rid of sebum and natural oils produced by your skin, as well as the residues of other cosmetics. The cleaner should be applied with fibre-free applicators.
BIO cleaner is produced from natural ingredients and does not contain any substance of an animal origin. They also have not been tested on animals. If your eyelashes are moisturized and are in good condition, your extensions will last longer. Your natural hairs need to be strong in order to support the additional - artificial - ones.
How to take care of extended eyelashes?
Fortunately for every future extended-lashes owner, Noble Lashes offers a wide range of products that you can use to take care of your natural hairs. In our shop, you can find non-fat foams and cleaners prepared from natural ingredients.
After you get your extensions applied, you will need to be very cautious not to damage your new eyelashes. For 48 hours you should not be taking any swims or hot showers, using saunas or even wash your eyes. You can take care of your eyelashes by using dedicated cosmetics and accessories - those can be found on our Noble Lashes website. With their help, you will be able to keep them in an untouched condition for a longer period of time.
Noble Lashes even proposes the whole care sets that contain eyelash shampoo, foam container, and brushes. Along with the package with everything you'll need to look after your extended eyelashes, you'll receive a list of recommendations on how to do that properly. With Noble Lashes, you will now be able to control the whole process of eyelash extending treatment - from the preparation phase to the maintenance.


How to use:

Apply the cleaner to clean eyelashes. Apply with micro brushes.


Made in Poland
100% vegan
100% cruelty-free
Capacity: 10ml
Details
| | |
| --- | --- |
| Colour | Transparent |
| Capacity | 10ml |
| Consistency | Liquid |
| INCI | Alcohol, Benzalkonium Chloride, Aqua, Rosa Canina Extract, Limonene, 99% of Natural Origin ingredients |
Opinions
Have you tested our product?
Log in
and share an opinion
- we try to be best for you, and your opinion will help us a lot!