Company history
Almost every great story begins with an accidental step, this one will not differ from that. The Noble Lashes brand is currently number 1 in the eyelash extension industry in Poland. The small step resulted in great success and made the dreams of the owners - Paweł and Karol Wojciechowski come true. Let us tell you how it all started.
In 2010, the Wojciechowski brothers, asked to import several products for the eyelash extension treatment, noticed a demand that the businesses operating at that time failed to meet. It was the beginning of a beautiful and long path to the development of Noble Lashes. Testing the first batches, recruiting instructors and direct sales to beauty parlours were a huge challenge at first.
The eyelash extensions industry, although still in its infancy, was a complete novelty for Paweł and Karol, who so far dealt with finances, still training in the ring in their free time. The beginnings were far from easy. We have put all our savings into the forming company. I remember that my brother and I went from one parlour to another, trying to sell our eyelashes. We quickly noticed that it was of no avail, we were not salespersons, and that is why we decided to compete with quality and innovativeness of our products, so the parlours were searching for us, and not vice versa. We wanted to become the cutting edge in the eyelash extension industry. And it worked - says Paweł Wojciechowski, CEO of Noble Lashes. Commitment and hard work allowed them to develop the company further.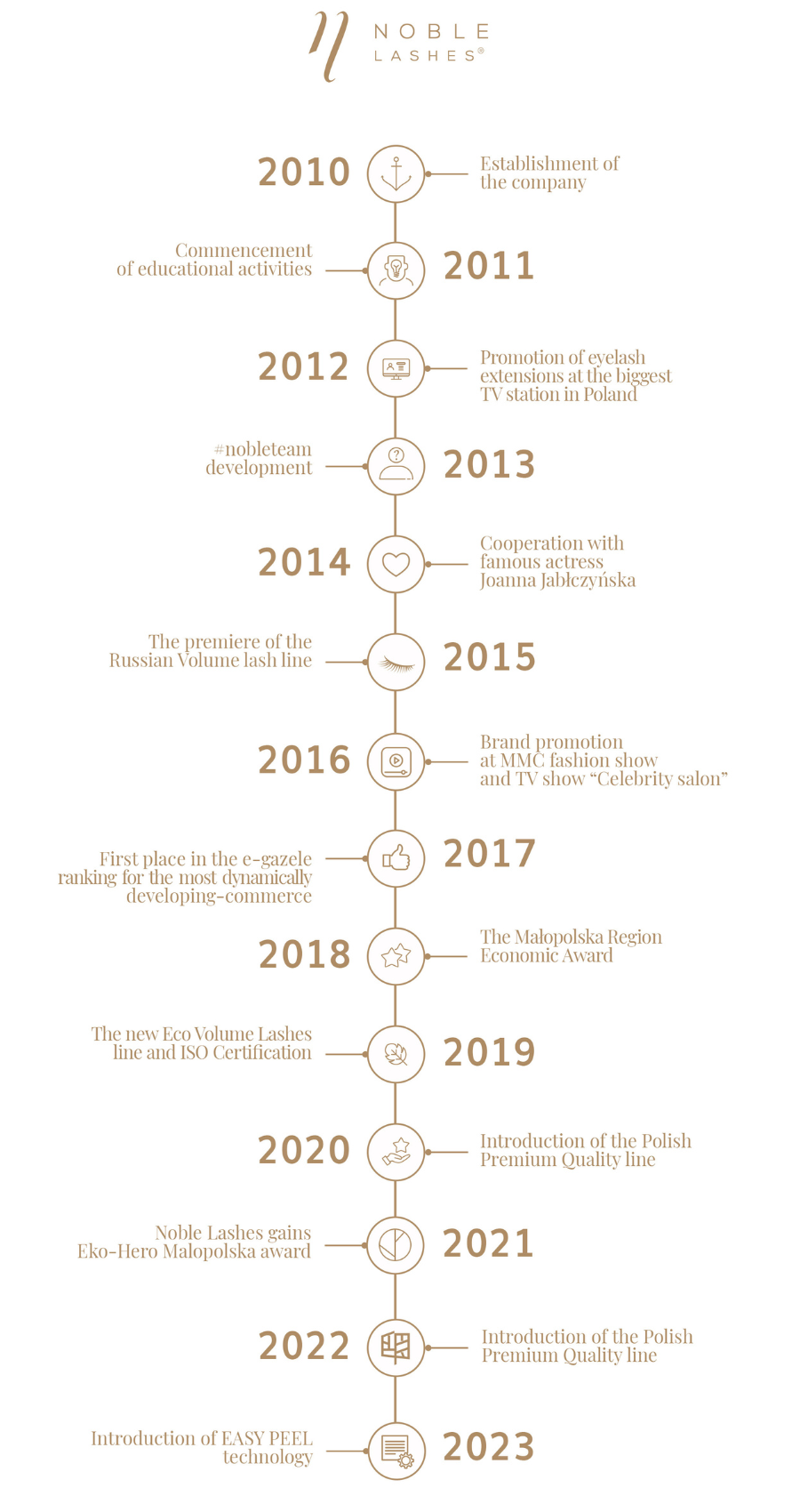 Our trainers
The team of Noble Lashes Instructors expanded along with the company's growth. At present, we are proud of our 41-person team of exceptional stylists. Our brand instructors are famous for their skills, commitment, charisma and individual approach to their students. It is no coincidence that our instructors are considered to be crème de la crème of the industry.
The recruitment process for the position of our instructor consists of several stages and tests. At the very beginning, we collect the application cards with photos of works, which are then carefully assessed by the current instructor team. Based on the ratings and opinions, the stylist is forwarded to the subsequent stage. If you would like to test your skills and join the #nobleteam team, please send your application - send the application.
Education
Here, at Noble Lashes, we focus on the education and support of the student at every stage of learning. This is one of the reasons why the dates of our training <link> are planned so well in advance. Each of our instructors treats the student individually and assesses her skills, based on joint exercises. Unique training scripts allow our instructors to better adapt to the needs of the student and answer each of the questions bothering her.
By 2019, we trained nearly 11,000 students. The number of people interested in our training is constantly growing, and we are happy to assist our stylists on the path to their new careers.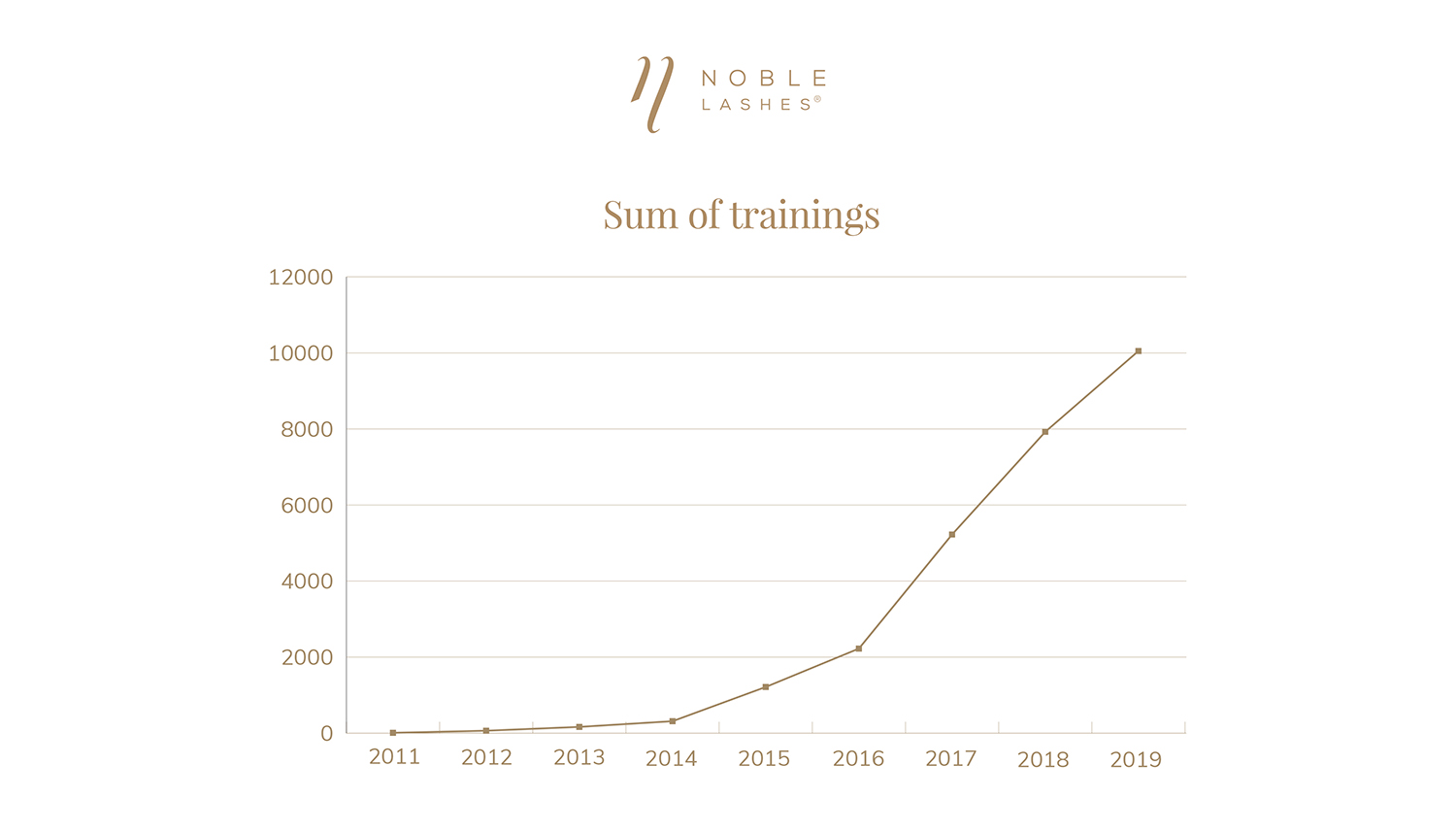 Manufacturing
At the moment, the products from our offer are manufactured in Poland and Korea. Products from Korea are handcrafted, with special care and attention to detail. We manufacture only in proven locations, where the manufacturers are capable of meeting our quality standards. The basis for us are friendly relations and visits to our factories to make sure that the products meet our and our customers' expectations. Along with continuous development, we try to turn to conscious manufacturing solutions that will pay off in the future. The first of these was the 2019 introduction of Eco Volume Lashes. We packed our improved eyelash strips pampered with modern solutions in 100% biodegradable packaging. Kraft paper that makes up our eco-palette is a recycled material. The cardboard box used by our (and not only) industry, is now used e.g. for shipments, and has become the basis of our packaging and package fillings. It's amazing that we can grant a second life to seemingly useless materials. In our ecological view of business, we are delighted with the greater awareness of the use of raw materials and care for each of the production stages.
We are currently taking our first steps towards it creating the Polish Premium Quality line. This is a collection distinguished by the uniqueness of its recipes, natural ingredients and Polish manufacture. The fact that it is the first initiative of this type in the entire Polish eyelash extension industry is another source of our pride. We trust that only such actions can lead us to a better tomorrow. Although as a medium-sized company we do not have a direct impact on the global ecological situation, we believe that even a small change matters.
Only by abandoning plastic trays for the new line, we managed to minimize plastic production by approximately 5 tons. This may seem like a small achievement on a global scale, but for us it forms a signal for further action. We are very pleased that we have become the beginning of a new quality in manufacturing and a benchmark for other brands that follow in our footsteps. We encourage everyone to introduce conscious and environmentally friendly solutions. Only together can we achieve more!
The Noble Lashes brand often appears in media, we are very proud of this fact. We invite you to read several articles devoted to us: